international speakers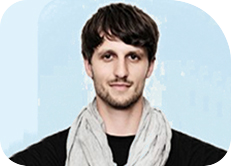 lutz leichsenring
- club commissioner, berlin
Lutz Leichsenring is one of the world's authorities on protecting creative industries. Since 2009, he has been the spokesman & executive board member for the Berlin Club Commission. He has fought tirelessly for the rights of Berlin's vast underground club scene by organizing demonstrations, conferences, workshops & by speaking at round tables & parliamentary committees. Mr. Leichsenring focuses on the informal aspects of city life & helps grow grassroots culture as much as possible. Working to strengthen communities from the music scene, to co-working & art spaces, he is on the lookout for collaborative, sustainable & vibrant initiatives. Supporting young club- & festival managers, he identifies local tools to help protect the music & art scene while continuously looking for ways to make all participants benefit. His role with the Club commission & the Berlin Music board has even led Lutz into the city's Chamber of Commerce, where he frequently votes on development issues that protect creative space affected by gentrification.
bradley drummond
- solutions manager, nightlife harman professional solutions
Experienced hospitality technology professional with experience in both venue operations and audio, video, lighting, and control solutions and marketing. Work history includes global business development, technology solutions management, nightclub production, operations management for several venues, and AV technology design and project management of over 100 venues. AV designs of note include: XS Nightclub, Encore Beach Club, Light Nightclub, Daylight Beach Club, Tao Nightclub, 1OAK, STK, Kumi, Yellowtail, King's Bowl America, Lily Lounge, Delano Miami and many others.
ewan gunn
- global whisky master, london
Diageo's global Scotch whisky master has been in the industry for 20 years, promoting Scotch on almost every continent. He tells Matt Evans about the secret of how to deal with jet lag, grain whisky's bright future and star-studded dinners with Posh and Becks. He has worked in the Scotch industry for 20 years. His first job after university was at Cadenhead, who used to have him go and work in the Springbank distillery, because of which he was able to build an appreciation for every element of whisky production. He moved on to Angus Dundee distillers, and in 2004 moved to Bacardi, working as the US brand ambassador for Dewar's in New York. In early 2011 he joined Diageo and now holds the position of global whisky master.
alan d miller
- night time industries association uk
Co-founded London's Old Truman Brewery business cultural centre and is creator of The Vibe Bar, which ran for almost 20 years on Brick Lane. Alan writes for various publications, produces and directs events & film internationally. He was on the Arts Council London for several years and is often on the radio. The Night Time Industries Association promotes the unique contribution of the night time industry to the UK. Their enormous cultural and economic contribution to the UK should be recognised - and encouraged not penalised. While they rightly champion their musical artists, fashion, film and architects - very few of the developments in the past 20 years could have happened without the direct influence and shaping by the Night Time Industries in the UK.
gallery
national winners
city winners
| | MUMBAI | KOLKATA | HYDERABAD | BANGALORE | NCR | PUNE | GOA | CHENNAI |
| --- | --- | --- | --- | --- | --- | --- | --- | --- |
| Lounge | Asilo | Roxy | Air Café Lounge | Shiro | S Bar & Restaurant (Shalom) | Paasha | Seven, The Cliff Bar | Chipstead |
| Night Club | Trilogy | Myx | Over The Moon | Sugar Factory | Kitty Su | Mi-a-Mi | SinQ Nightclub | Pasha |
| Bar in Hotel | WINK | The Junction | The Sky Lounge | Bang | The Library Bar | Mix @ 36 | Capiz Bar | 365 A.S. |
| Bar Chain | Social | The Irish House | 10 Downing Street | Social | Social | Hidden Place - Best Hangout | N/A | N/A |
| Beer Bar | Doolally TapRoom | Beer Republic | MOB - Belgian Beer House | Arbor Brewing Company | The Beer Café | Independance Brewing Company | Top Gear Pub | N/A |
| Cocktail Bar | MasalaBar | The factory outlet | Glocal Junction | Social | PCO | Terttulia | Thalassa | Sudaka |
| Resto-Bar | Café Zoe | Café Mezunna | Heart cup coffee | Social | Olive Bar & Kitchen | Terttulia | The Black Sheep Bistro | Radio Room |
| Sports Bar | The Irish House | Xrong Place | Xtreme Sports Bar | Xtreme Sports Bar | Underdoggs Sports Bar & Grill | Aufside @ Hotfut | J29 Sports Bar and Restaurant | US 101 |
| Dive Bar | The Ghetto | Olypub | TiKi Shack | Watson's | My Bar Studio | The High Spirits Café | Katzensuppe, Mafia Cocktail, Top Gear Pub | Sera - The Tapas Bar & Restaurant |
| Bar of the Year | Social | Shisha Bar Stock Exchange | Olive Bistro | Social | Social | High Spirits | Cohiba | 365 A.S. |
| Open Air Bar | AER Lounge | Aqua | Over The Moon | Skyye Lounge | Soi 7 | Paasha | Marbela Beach Restaurant | Q Bar |
| Bar Food | Social | Chili's Grill & Bar | TiKi Shack | Monkey Bar | Social | Terttulia | The Black Sheep Bistro | Sera - The Tapas Bar & Restaurant |
| Venue for Live Performances | blue Frog | Someplace Else | Heart Cup Coffee | The Humming Tree | The Piano Man Jazz Club | blue Frog | Cohiba | Bay 146 |
| Wine Bar | The Tasting Room | Roxy | Via Milano | The Library Bar | The Wine Company | Terttulia | Edge - Alila Diwa | 365 A.S. |
| Concept Bar | The Bar Stock Exchange | Shisha Bar Stock Exchange | N/A | Monkey Bar | Ek Bar | Bombay Bronx, Euriska | N/A | Radio Room |
| Bartender | N/A | Atanu Mondal, Irfan Ahmed | N/A | Guru Prashant | Nitin Tiwari | N/A | N/A | N/A |
| Promoter | Butter Events | Decible | Musifix | RICES OBLIQUITY | The Wild City | Moondeep Events N Live Shows | N/A | BoomBox Entertainment, Flip Mag |
| Artist Manager | Only Much Louder | Soupherb Records | Musifix | Submerge Entertainment Pvt Ltd | UnMute Agency (India) | Elements.Inc | N/A | N/A |
| Live Act/Bands | Madboy/Mink, The Other People | N/A | Threeory | Best Kept Secret, Thermal and a Quarter | Peter Cat Recording Co | N/A | N/A | Skrat |
| F & B Director | Mayank Bhatt | N/A | N/A | Manu Chandra | Suveer Sodhi | Manmeet Singh | N/A | N/A |
| DJ of the year | NUCLEYA | DJ Girish, DJ Harish Lakhmani, DJ Vicky, Sanjay Datta | Midnight Traffic | DJ Ivan | Kohra, BLOT | Yusuf Kapasi | N/A | Vijay Chawla |
| Café bar | Café Zoe | Café Mezunna | Heart cup coffee | Toscano | Perch, The Beer Café | Terttulia | N/A | Plan B |
| Debut Bar | MasalaBar | Shisha Bar Stock Exchange | Glocal Junction | Hangover | Molecule | The Urban Foundry | Watson's | Plan B, Radio Room |
| Bar Interior | Social | The Grid | Olive Bistro | Social | Social | Paasha | Capiz Bar | Radio Room |
| Pop Up | Playground | China House | Olive Bistro | Kitsch Mandi | N/A | Float | N/A | GOMADRAS Electronic Music Festival |